Located in the Windham building at Holiday Inn Club Vacations Mount Ascutney Resort
At The Maple Kitchen, we're proud of everything our beautiful state has to offer. We do our best to give you a taste of Vermont's bounty with every sip and bite! From berries picked down the road by local growers to meats and cheese procured from the Green Mountain Smokehouse to spirits made from local distillers such as SILO Distillery, we are deeply connected to - and dependent upon- our local communities to bring our guests a true taste of Vermont. You won't have to look hard to spot Vermont ingredients - Cheddar cheese (always white, never yellow), maple syrup, local meats, apples, fennel, seasonal vegetables and more round out the items on the menu. We are glad to have you at our table!
Our beverage program has the same heart as our food menu. Our offerings are simple, thoughtfully crafted with local ingredients and, of course, delicious, We have a rotating selection of Vermont-brewed craft beers - ask your bartender what we're offering today! You might notice that we have a selection on our menu offering a few different Mule cocktails. Made down the road (okay, it's a bit of a drive) in Burlington, Rookie's Ginger Beer is one of our favorites and it pairs well with vodka, gin, bourbon and even rum. So we thought a selection dedicated to Mules - Ginger Beer + local spirits - was a natural fit for our menu.
Phone
(802) 484-7711
Location
485 Hotel Road
Brownsville, VT 05037
Hours
Thu-Mon 5pm–9pm
Tue-Wed Closed
LIVE MUSIC ON MONDAYS!
LOCALS GET 10% OFF ON MONDAYS!
THURSDAY IS PRIME RIB NIGHT!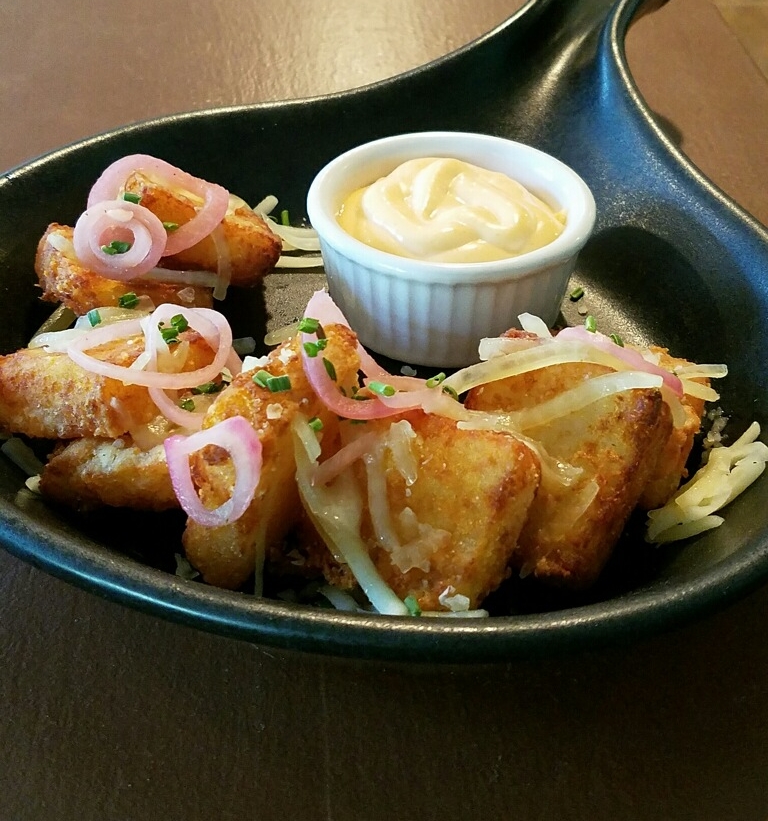 SANDWICHES

DAILY BURGER
Angus beef burger topped with caramelized onions, lettuce and tomato
14
BEEFALO BURGER
A mixture of beef and buffalo, topped with candied bacon, blue cheese crumbles, lettuce and red onions
15
VT BLT
Candied bacon, Cabot cheddar cheese, lettuce, tomato and garlic mayo on Texas toast
12
CHICKEN-APPLE-CHEDDAR SANDWICH
Grilled marinated chicken breast, local ham, Cabot cheddar cheese, Cortland apples and lettuce topped with our
house honey mustard
15
Add:
Bacon 1.75 | Cheese .75
MAIN DISHES

CRAB-LOBSTER CAKES
Mixture of Crab, lobster, mayonnaise, mustard and old bay seasoning
26
SMOKED MAPLE PLANK SALMON
Topped with a smoked maple syrup served with creamy cauliflower, apple and capers "risotto"
23
BEER CAN HALF CHICKEN
Herb marinated free-range chicken served with a garlic beer glaze
20
BUTTERNUT SQUASH RAVIOLI
Served with diced butternut squash, toasted pumpkin seeds, sage and balsamic butter sauce finished with parmesan cheese
18
SEASONAL POT PIE
Baked mixed seasonal vegetables in creamy sauce with a puff pastry topper
16
CIDER GLAZED MAPLEWOOD SMOKED RIBS
Served with French Fries
21
SEAFOOD NEWBURG
A mixture of lobster, scallops, shrimp and haddock cooked in Newburg sauce
34
GRILLED RIBEYE STEAK
Topped with your choice of mushrooms or sautéed onions
30
APPLEJACK PORK CHOPS
Grilled pork chops topped with homemade applejack sauce
26
DESSERTS

STRAWBERRY SHORTCAKE
Sugared strawberries and vanilla whipped cream served on a freshly baked biscuit, with vanilla ice cream on the side
$8
FRIED DOUGH
A New England favorite served with Amoretto and rum maple cream dipping sauce and vanilla ice cream
$8
MAPLE KITCHEN CRUMBLE
Seasonal fruit served with vanilla ice cream
$8
SEASONAL CREME BRULEE
Ask your server for today's selection
$8
MOLTEN CHOCOLATE CAKE
Fresh Baked chocolate batter with chocolate and hint of coconut topped with vanilla ice cream
$9
Chef Hafid Rkiki originally comes from Morocco and has worked for Orange Lake Resorts for four years. Prior to moving to Vermont, Chef Hafid was the Chef d' Cuisine at River Island Grilling Company at Orange Lake Resort in Orlando, Florida. Chef Hafid and his family moved to Vermont in November of 2015, where he became the Senior Food & Beverage Manager of Holiday Inn Club Vacations at Ascutney Mountain Resort. Chef Hafid brings tremendous passion, knowledge and experience to The Maple Kitchen. He has been known to visit his tables on a nightly basis, so don't be shy to tell him how much you enjoyed your meal!
Weddings and Special Events
Let us host your wedding, holiday party or special event! Our newly renovated Mountain View Ballroom can host up to 150 people and offers breathtaking views of Mount Ascutney. Your menu will be expertly prepared by Senior Food & Beverage Manager and Chef Hafid Rkiki and The Maple Kitchen culinary team. Please call Events Manager Amy Bonney at 802-484-7711, for more information on our event packages.
Are you looking for an exciting career in the hospitality industry?